More About Me

---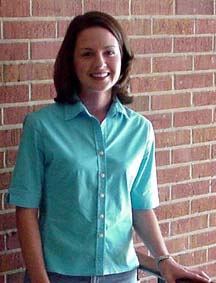 I am a graduate student at Western Kentucky University in Bowling Green, Kentucky. I student taught at W. R. McNeill Elementary School in Bowling Green. My experiences included eight weeks in both kindergarten and third grade. I graduated with a Bachelor's of Science Degree in Elementary Education Summa Cum Laude in May 2001. I am certified to teach kindergarten through fifth grade.
I was born and raised in Bowling Green. I am a 1997 graduate of Greenwood High School. I love being outdoors, exercising, reading, computers, and being with my family and friends. I especially treasure time with my fiancé, Kish. We have been dating for nearly three years and will be getting married in the fall of 2001.
I have dreamed of being a teacher since I was seven years old. I am very blessed to have had excellent teachers throughout my education that have influenced my career choice. I am very excited about my first year of teaching!!